11 Must- have E-commerce Website Essentials that will Impress your Visitors & Drive Profits
E commerce website essentials create and design powerful and professionally designed ecommerce solutions that are sure to set your business or personal store on the right path.
You can also get us to - Design a fully responsive website that can be accessed by all desktops, laptops, as well as mobile phones.
Hey wait, we have something for you. Just have a look.
Do you want an ecommerce website that effectively markets your products and increases sales? We can build and maintain a powerful ecommerce web presence for your business. For a free quote, contact us today 020 8363 4905
Let's come to our topic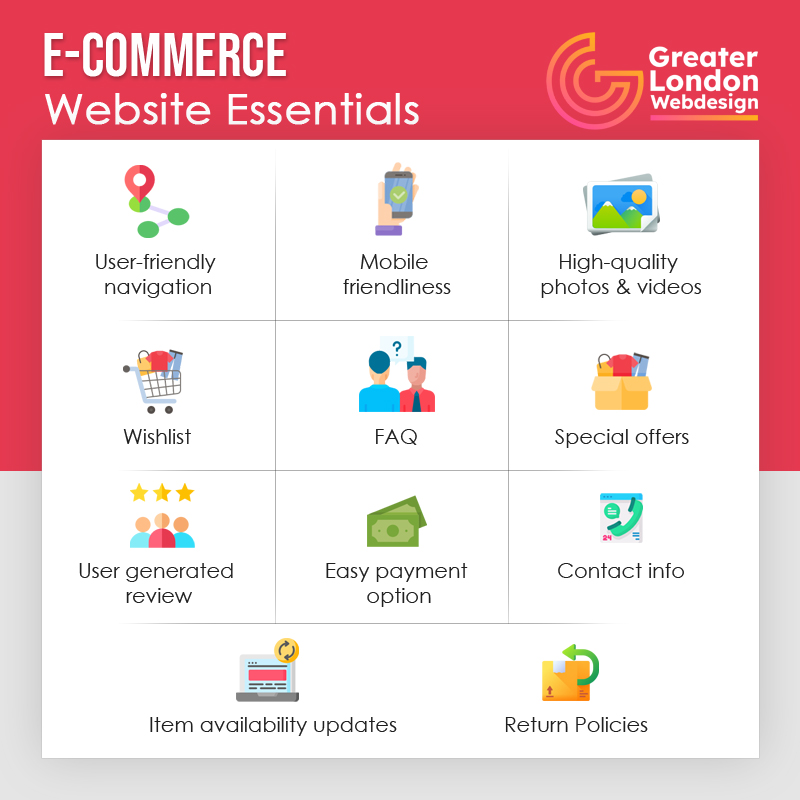 E-Commerce website essentials!
When we talk about e-commerce websites, initially you must understand that it's not just the quality of a product that can help an e-commerce site succeed, but also how it is marketed and designed.
E-commerce is a complex business, and all e-commerce websites are unique in their own way.
In the world of ecommerce website design, trends come and go—but the ecommerce site itself should include certain elements to stay relevant and competitive.
It's no secret that ecommerce website design trends have come and gone over the years. But there are certain elements that a site must have in order to stay relevant and keep its audience happy!!
Let's take a peek into e-commerce platform features that will impress your visitors and drive conversions.
11 E-commerce website essentials to attract online shoppers
User-friendly Navigation

Customers need to be able to find what they're looking for on your website. The best way of doing this is to create a smooth, user-friendly navigation system that shows products at the point in the purchase process where customers will want to see them.

To create a great user experience on your ecommerce site, have clear menus that allow users to browse different product categories. Make sure these menus are in easy-to-find locations, such as across the top of every page.

You can also let users filter products by price, style, size, manufacturer, and other characteristics. The features you include depend on the products you offer and what characteristics are most important to your customers.

Mobile Friendliness

Mobile users now account for the majority of online shopping. Do you know 60% of people buy online through mobile phones?

Mobile-friendly sites are easy to use on the go. With a responsive site, content adapts to the device accessing it so that visitors get the best experience.

Creating a mobile-friendly experience for your shoppers will provide a more user-friendly web experience and potentially improve your search engine rankings.

Statics shows that walmart increased its sale by 98% after optimising mobile friendliness.

What does it show?

Mobile friendliness is the e-commerce website essential that must be on your top priority list.

High Quality Photos & Videos

One of e-commerce top key features is the use of high-quality photos and videos.

Use images to catch your users' attention, keep them interested, and help them get a better understanding of how to use your product.

Include high-quality photos and videos on your site that make you look professional. Studies suggest that product videos really help users understand how to use your products and make shopping a more pleasurable experience. The more visual content you include in your explainer video, the better.

You want users to feel like they can get a good sense of what your product is and how it works from watching your video. Including images from different angles helps do that. And if you can include videos of people using your product in different situations, it will be even better.

Make sure your graphics load fast, or you'll lose out on potential buyers. And don't forget about social media! When it comes to images, such as on product pages or Instagram, remember that speed matters. Slow-loading photos can lead to a 39% rate of drop-off, and you definitely don't want your viewers to abandon your page!

Wishlist to Save Desired Products

Wishlist are great. They let people know what they want and need to complete the room and make the shopping experience more positive.

Here's how to use Wishlist in your content marketing strategy!

Make sure you have a pleasant experience when you create a Wishlist similar to Pinterest.
Let customers create their Wishlist and create multiple lists allow customers to name their Wishlist.
Include sharing buttons so that customers can forward Wishlist to family members and friends.
Create strategies for Email and PPC around Wishlists to allow customers to benefit from deals offers.
Create Wishlists that are easy to locate on your site.
Check that your Wishlists work on mobiles.
Make use of popups to enhance the usage of Wishlists in the following situations:

The product is out-of-stock.
A customer has spent time on a website on the page of a product.
Customers navigate away from the product pages on your site.

User-generated Reviews & Social Proof

You're not alone if you read online reviews before making a purchase! Nine out of every ten customers review products on an ecommerce site after they buy products, and over seventy percent of users won't make a purchase until they read reviews.

Including user-generated ratings and reviews on your site can help keep shoppers on your site and encourage them to make purchases.

To get reviews, build review functionality into your site and encourage customers to leave reviews on third-party sites like Google My Business, Facebook, and product review websites. Other kinds of helpful social proof include user-created social media content and testimonials.

In addition, don't forget to add user generated review as ecommerce website essential!!

FAQ (Frequently Asked Questions )

A frequently asked questions page makes it easier for customers to get the information they need. It's a convenient resource for answering customers' questions quickly. A FAQ page can help set your store apart from competitors and improve your brand image. Include keywords in your FAQ. It will improve your e-commerce SEO and drive unlimited traffic to your website.

Confused about e-commerce SEO, Consult our SEO Specialist today.

Special Offers

If shoppers realise they're getting a deal and are motivated, they purchase more products while browsing the website.

If online stores are running promotions that are ongoing, having an individual page that details the deals will not just increase sales, but it will improve SEO as well.

So why don't you add special offers and deals?

Consider this as a basic ecommerce requirement, get ready to attract your audience.

Easy Payment Option

There are numerous prominent online payment methods. The trick is knowing who the purchaser is, and then implementing the most efficient methods.

If your site has limitations on options for payment, be sure you explain the reason.

As an example, the site might not accept Bitcoin to customers as a payment method once it has determined its value as not trustworthy.

Contact Page with Several Contact Info

If your customer can't find the answer to a question on your FAQ page, they may want to contact you. An easy-to-find contact page with several contact options makes your site more user-friendly and helps your business appear trustworthy. You shouldn't make it hard for a buyer to get in touch or request support.

Update on Item Availability

Make it easy for customers to find out whether the items they are interested in are available. It is frustrating for customers to make a purchase only to find that the item is no longer available. If an item is not in stock, provide information about when it will be available again.

It will increase their trust in you.

Let them Shop with Confidence

Shoppers want to feel secure when they buy something, so explain your shipping and return policies clearly and make them easy to find.

Please consider return policies as essential e-commerce website features and increase the confidence of your customers.
Let's Wrap Up
Do you want to increase your e-commerce online presence and boost your sales?
Here are some essential e-commerce website features that many marketers overlook. If you're interested in learning more, take a look at our blog, which features even more insightful posts on ecommerce.
If you have any queries or questions, don't forget to get in touch.
We are ready to help you!!